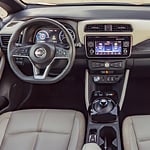 Many Corvallis drivers are looking for efficient cars that both cut their spending and lower their carbon footprints. As an extremely popular EV, the Nissan LEAF definitely delivers in each of these areas. At Kiefer Nissan of Corvallis, we want locals to understand how owning the LEAF can benefit both their wallets and the natural environment.
The Nissan LEAF Is An All-Electric Vehicle
The first and most impressive benefit of the Nissan LEAF is the fact that it requires absolutely no gas. This vehicle has a battery that can power the car for as many as 226 miles on just one charge. With its all-electric design, the LEAF also lacks the noise and inconvenience of cars with internal combustion engines. There is absolutely no need for fluid top-ups with this EV, and no need for drivers to schedule and pay for oil changes. When you drive the LEAF, you'll save at the pump and you'll cut your spending on ongoing maintenance.
Do Something Good For The Environment
Switching to the Nissan LEAF is an incredibly easy way to do something good for the environment. This car doesn't produce any emissions at all. If you're worried about your carbon footprint, you can drive this vehicle for miles without contributing to greenhouse gases. Stop by Kiefer Nissan of Corvallis today to take the Nissan LEAF out for a test drive.