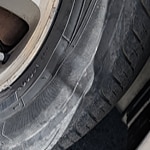 There are some common warning signs to watch out for if your tires need to be replaced. At Kiefer Nissan of Corvallis, we try to catch these issues before they create an unsafe situation for you while you're driving on the road. In between inspections we want you to keep an eye out for:
A breakdown of the rubber that your tires are made of. This could present itself as cracks or splitting on the sides of the tires.
If you notice that there is a vibration coming from your tires that you don't normally experience, there could be something going on that would warrant replacement.
Tread depth should be inspected every few months. If the treads are wearing down, start shopping for a new set.
Tires that aren't holding air properly are likely going to need to be replaced in the very near future.